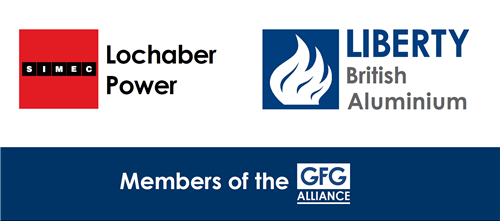 Liberty British Aluminium / SIMEC Lochaber Power
Lochaber Smelter is an Aluminium Smelter located in the Highlands of Scotland. The site is managed by Liberty British Aluminium and SIMEC, who are members of the GFG Alliance.
Lochaber Smelter, Fort William, PH33 6TH, United Kingdom
A member of the GFG Alliance, Liberty's Aluminium division owns and operates the only remaining aluminium smelter in the UK.
Based at Fort William in the Scottish Highlands since 1929, the smelting facilities are powered by Simec through a combination of renewable energy sources which makes the site one of the greenest metal production plants in the country.
The site produces approximately 47,000 tonnes of aluminium a year and in addition to serving the international market with semi-finished aluminium, Liberty is investing £120m to upgrade the smelter and add value through the development of downstream manufacturing on site.
The site includes 2 Reduction Pot lines, a Casting Plant, Power Stations (Lochaber & Kinlochleven), associated hydro schemes and estates. Lochaber Power Station generates an average of 68MW & Kinlochleven Power Station generates 20MW.
Surrounded by beautiful scenery and countless outdoor activities on its doorstep, coupled by ongoing investment in the site and surrounding areas, this is an ideal time to join Liberty Aluminium.
http://www.libertyhousegroup.com/
http://www.simec.com/
See the latest jobs first with alerts
Follow Liberty British Aluminium / SIMEC Lochaber Power to get notified when they add new jobs.
You can unsubscribe at any time.
Sign up to email alerts to get notified when new jobs with Liberty British Aluminium / SIMEC Lochaber Power are added.