Spa Therapist & Spa Manager
Ardrhu House Limited
Posted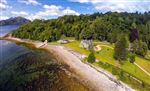 From £22,000 per annum
bonus scheme
Full Time
Permanent
Contact:

Ardrhu House
Ardrhu House is looking for a wonderful spa therapist that will provide guests with wellness and beauty treatments in a stunning setting.
We are looking for male & female massage therapists or female therapists/beautician candidates with lots of Passion, Energy, and Warmth.
You will be part of a small team, working in a relaxed atmosphere overseeing the spa area and all parts of our operation that connect to the spa experiences that we offer.
Your primary responsibility will be to deliver a world-class spa experience for our resident guests and our day-spa guests.
We are looking for therapists with a desire to develop a holistic practice, focused on Ayurveda, aromatherapy, and healing rituals.

Our core beauty salon treatments include facials, massages, body scrubs, waxing, and manicure/pedicure.
Hairstyling, lashes, tanning, and nail extensions are highly appreciated but not essential to your application, and specialist training will be provided should you wish to develop your practice.

Occasionally you will be expected to take part in full-day spa events on-site or off-site where you will be working side by side with other therapists for a group of clients. A pleasant attitude and the ability to work as part of a team are vital and we are counting on you to be able to create a serenely relaxing experience for the guests and to promote product sales and future treatment bookings.

This position is full-time and will include a mix of weekend, daytime, and afternoon shifts.
A part-time option is also available as are seasonal contracts for 3 or 6 months.

We have an excellent bonus scheme in place that awards great service and various occasional rewards connected to your length of service or special calendar events throughout the year. Our Employee Wellbeing Scheme also includes 24/7 access to phone counseling, GP referrals, and complementary health support and you have allowances for spa treatments and private visits each calendar period.

At this time we do not have live-in accommodation but we can consider options to offer you accommodation nearby at £400 month in a lovely home environment as a lodger.

Come and be part of something new & special, living in the heart of the Highlands!
To succeed in the spa therapist role you will most likely hold an HND/NVQ Level 2/3, as well as have previous experience working in a similar type of environment (salon or spa).
For the spa manager position we require previous experience in a senior role in a spa/salon environment or evidence of a successful self employed practice in this field.
We can't find any similar jobs at the moment.