Housekeeper & Front of House
Ardrhu House Limited
Posted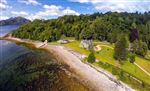 From £21,000 per annum
Full Time
Permanent
Contact:

Andrejs Snikis
The positions are open to male & female applicants with experience in domestic cleaning and ideally with previous hotel/B&B experience.
We do not offer accommodation on-site and your own transportation is necessary to get here. If you require accommodation in the area we have a couple of 3rd party options nearby.
The work consists of bedroom & bathroom cleaning, linen & towel change, dusting the house, mopping, cleaning kitchen and laundry areas, emptying rubbish and sweeping the entrances, arranging outdoor furniture, keeping all areas of house and spa tidy, replenishing toiletries & towels, doing the laundry & ironing with professional equipment.
Shifts starting 8 AM include breakfast set up & clear up. The applicant must be able to commit to a minimum work schedule that will include a weekend shift, with the possibility to increase the hours during certain days and/or work afternoons.
We have a Front of House option with 2-3 days a week afternoon shifts and 2 shifts morning.
We also have the option of afternoon & night shifts available where you would focus on laundry for housekeeping & safely closing down the public areas for guests overnight if night porter duties are added.
Very good rate of pay offered to start at £10/hour for basic housekeeping and £11 for housekeeping & front of house combined. This is a permanent position with benefits for monthly spa treatments, cash bonuses, and access to an employee wellbeing service provided by Health Assured (counseling, legal advice, health checks, etc).
Reliability and good performance will be rewarded by bonuses every 3 months (up to £600/year).
We require a high standard of cleaning and attention to detail. You will sometimes work alone, and on busier days with another cleaner. You are expected to be flexible and able to juggle between tasks dependant on what each day requires.
From £8.91 per hour
,
Elderslie