Administrative Officer and Relief Administrative Officer
Scottish Courts and Tribunals Service
Posted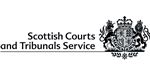 From £21,650 per annum
Grade: AO, Relief Officer Allowance of £2,000 will be paid into monthly salary pro rata
Full Time
Contract
Contact:

Nicola Burnel
Relief Officer Allowance of £2,000 will be paid into monthly salary pro rata, once training at base court is complete and provided competency in the duties of an AO has been achieved. Travel and Subsistence will also be paid when Relief duties are outwith base court.
This post will initially be on a Fixed Term basis for up to 12 months and there may be the possibility of a permanent position becoming available.
Reserve applicants will be identified to be considered for similar posts that may arise elsewhere within the Sheriffdom of Grampian, Highland & Islands over the next 12 months.
Both roles are an excellent opportunity for someone looking to gain a wide variety of administrative experience. Both are a vital role within the Grampian, Highland & Islands area working closely with multiple teams and reporting to either Inverness Sheriff Court or the Sheriffdom Business Management Team.
Some of the key responsibilities for the position are:
Competently answering queries giving consistent and reliable advice in the areas of Criminal and Civil Procedures.
Creating and updating records on our in-house computer systems and data input.
Producing accurate court documents.
Preparing files for court hearings.
Dealing with numerical calculations.
Some of the skills and experience required for the position are:
Deals efficiently with customer enquiries, providing consistently accurate advice.
Helps and supports colleagues working as a team player.
Is adaptable, flexible and responds well to change.
Uses Information Technology effectively.
Builds skills and knowledge quickly.
In return we offer an interesting work environment, flexible working arrangements; various policies aimed at helping you balance the needs of your work and home life, exclusive offers and discounts, access to funding for further education, vocational qualification, 25 days holiday entitlement, 11.5 days Public and Privilege holidays and a civil service pension. Opportunities for career progression are also excellent.
If you are interested in this challenging and rewarding opportunity, you may apply online at http://www.scotcourts.gov.uk/recruitment. For further information on the post please contact Nicola Burnel Sheriffdom Management Team, Inverness Justice Centre, Longman Road Inverness IV1 1AH, on 01463 251964, or at nburnel@scotcourts.gov.uk. Alternatively, contact Janet Hunter on 01595 693914, or at jhunter@scotcourts.gov.uk

Closing date: 21 July 2021.

Interviews will be held in a remote/virtual setting week commencing 9 August 2021.

Nationality Requirement
This job is broadly open to the following groups:
UK nationals
Nationals of Commonwealth countries who have the right to work in the UK
Nationals of the Republic of Ireland
Nationals from the EU, EEA or Switzerland with (or eligible for) status under the European Union Settlement Scheme (EUSS)
Relevant EU, EEA, Swiss or Turkish nationals working in the Civil Service
Relevant EU, EEA, Swiss or Turkish nationals who have built up the right to work in the Civil Service
Certain family members of the relevant EU, EEA, Swiss or Turkish nationals
We strongly urge that EU nationals who may not have Settled or Pre-Settled Status make an application before 30 June 2021, to ensure their continued eligibility to employment.

By virtue of the Rehabilitation of Offenders Act 1974 (Exclusion and Exceptions) (Scotland) Order 2013 (as amended), the protections of the Rehabilitation of Offenders Act (1974) are disapplied to this appointment in the Scottish Courts and Tribunals Service. This permits us to ask applicants to disclose details of all unspent convictions, unspent cautions (from England, Wales and Northern Ireland) and spent convictions for an offence listed in Schedule A1 of the 2013 Order but only if: 15 years have not elapsed since the date of your conviction if you were aged 18 or over on that date; or 7 years and 6 months have not elapsed since the date of your conviction if you were under 18 on that date. Any spent conviction that is a 'protected conviction' does not require to be disclosed. Individuals without existing security clearance will require a standard level Disclosure check completed before employment can commence. Further information on the different types of convictions that should be disclosed in this application form and which are included in a Standard Disclosure can be found at https://www.mygov.scot/standard-disclosure/

The Scottish Courts and Tribunals Service and the Public and Commercial Services (PCS) Union work in partnership so we have open, collaborative and positive working environments, that make SCTS a great place to work, learn and develop, engaging fully with fair work principles and encouraging membership of our recognised trade union PCS.
We can't find any similar jobs at the moment.