Social Worker (Whole Systems & Youth Justice) (Permanent) - REN06189
Renfrewshire Council
Posted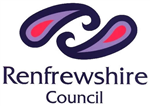 £34,966 to £39,365 per annum
Grade 09
Full Time
Contact:

Please see description
Reference:

REN06189
Advert
Based in St. James Street Centre, St. James Street, Paisley.
Renfrewshire Council is committed to providing the highest quality Children's Services Service and we are looking for the ideal candidate to join our Additional Family/Youth Support Service – Whole Systems (AFYSS-WS) team. Renfrewshire Council is continuing to develop new and innovative approaches to working with young people and this service has been extended to include care leavers up to the age of 20yrs.
The key tasks of this role include, undertaking a range of statutory interventions, participate in duty, provide high quality Reports and recordings. This post also involves working with other relevant partner agencies, possibly within a multi disciplinary setting - current Youth Justice/Criminal Justice experience for this post is required
You must possess a CQSW, DIPSW or appropriate qualification and advantageous if you have undertaken and passed competence based training (where applicable) on: Mental Health, Child Protection and Risk Assessments i.e., AIM III, SAVRY, LSCMI.
You will have current experience within a Youth Justice/Child Care or Criminal Justice field with experience in client supervision, undertaking individual work and co-working and experience in multi-agency working. Additionally, it is desirable that you have experience of working with clients who have addiction, housing and employability issues and working with service users in custody and the community.
You must be able to communicate effectively and have effective interpersonal skills enabling you to work as part of a team as well as on your own. You will have sound assessment and writing skills, be able to prioritise your workload and be skilled in the use of IT, knowledge/experience of SWIFT is desirable but not essential. You must be flexible in your approach, highly motivated and committed to maintaining Social Work Values, with the ability to demonstrate awareness with the ability to use in work with clients, advantageous.
You must be registered with the Scottish Social Services Council (SSSC).
A full driving licence is desirable as is flexibility with working hours.
If successful, you will be required to undertake a Disclosure Scotland check, the level of check will be determined by the duties of the post. If you would like further information in relation to the Disclosure Scotland checks, please visit www.disclosurescotland.co.uk
Closing Date - Wednesday 4 August 2021
We can't find any similar jobs at the moment.