Staff Social Club Manager
Crieff Hydro Family of Hotels
Posted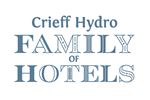 £21,000 to £22,500 per annum
Competitive Salary
Full Time
Contact:

Crieff Hydro Limited
Be part of the family...
We're a family business through and through – family owned, family run, with a warm family welcome for guests and team alike. Our seven hotels are unique and set in three stunning Scottish locations. Some are big, some are small but all offer good food & drink, great beds and a ton of things to do.
Crieff Hydro Hotel
Pretty much in the centre of Scotland, we're set in a 900acre estate in stunning Perthshire. Home from home, we've been welcoming generations of families for 150 years. We have 215 hotel bedrooms, 55 self-catering lodges, six restaurants and over 60 onsite activities– there really is something for everyone!
About the Role
Our team works hard. You'll provide a space to relax, be it for that coffee before their shift or that well deserved pint of something afterwards. First impressions count, so cleanliness and a friendly smile are key!
What we need from you
You'll be personable with oodles of people skills. A lot of our team live in - you'll be a great listener. Think of our team as your children, you'll be their sounding board for matters big and small.
Team welfare is at the heart of what you do and you will bring ideas and suggestions on how to improve our current offering, whilst maintaining a profitable outlet.
What you'll get from us
The chance to work in a friendly, forward thinking company with investment as a priority.
Great benefits – including pension, and discounts on leisure membership, food and hotel stays
Live in accommodation may be available
communication, innovation, personable
£24,000 to £25,000 per annum, Competitive Salary
,
Peebles
£30,000 per annum, Competitive Salary
,
Ballachulish
£9.21 per hour, 9.21 per hour
,
Crieff