Family Support Worker - Perinatal and Infant Mental Health (PNIMH)
Home-Start east Highland
Posted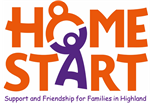 £20,092 per annum
Part Time
Temporary
Contact:

Administrator
Reference:

PNIMH-FSW
Home-Start East Highland
Job Description – Family Support Worker - PNIMH
Job Title: Family Support Worker – Perinatal and Infant Mental Health
Employer: Home-Start East Highland, Morrich House, Davidson Drive, Invergordon, IV18 0SA
Hours of work: 20 hours/week
Salary: £20,092 (pro rata)
Responsible to: The Senior Co-ordinator
Purposes of the job
· To support families to achieve the following: - strengthen parent/child relationship, reduce isolation, develop parenting skills, improve the home environment, increase access to family services, and improve physical and emotional health & wellbeing of parents and children.
Main Duties and Responsibilities
To work with individual families providing appropriate support as directed by the co-ordinators
To carry out a planned/timed piece of work with each family. This will involve encouraging and supporting parents in several specific parenting tasks such as bonding and attachment, bedtime or mealtime routines and nutrition, household management, budgeting.
Support parents to reduce isolation by linking with their local community and to access services suited to their needs.
Transporting parents to services such as GP/Hospital appointments (if no other suitable alternative)
To manage and facilitate the Family Support Groups. Include providing and facilitating with a program of activities for parents attending groups. Group sessions will be carried out face to face and/or remotely.
To maintain high standards of practice in supporting families within the ethos of Home-Start.
To ensure inclusion and diversity in all aspects of the scheme's operation and work.
To ensure all Home-Start policies and procedures are implemented.
To undertake designated responsibilities in relation to child protection to safeguard and promote children's welfare.
To maintain appropriate records to required standards.
· To undertake appropriate training
· To participate in a formal programme of supervision and performance review
· To network appropriately
The post holder may be required to undertake any other duties that fall within the nature of the role and responsibilities of the post as detailed above.
We can't find any similar jobs at the moment.