Account director
BT
Posted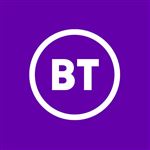 Full Time
Contact:

Human Resources
Reference:

164159
Our mission is to break down the barriers of today to release the potential of tomorrow. Join us today and release yours.
There are two things that we want to share with anyone considering joining us.
Firstly, we've got big ambitions for our colleagues and the future of the organisation. These include our vision that inclusion and accessibility drive every conversation we have and every decision we make. We want our workforce to fully represent the communities and customers we serve, because a diverse business is a better business. We value every colleague, their diversity and the contribution that they make. When we say you're welcome at BT, we really mean it.
Secondly, the one thing the pandemic has taught us is that a lot of current and future colleagues, where and when possible, want to embrace hybrid working. Therefore, we are introducing smart working at BT. Smart working means having the flexibility to choose, as a team, how and where you work depending on your team's deliverables and needs; when you are at your shared core location to connect with others and when not. It may not be for every role, and, as part of the recruitment process, you'll have the chance to discuss smart working and how it might work for the job you are applying for.
About this role
As a DR to the Head of Scotland Public & Private Key Accounts within the CPS Leadership in Scotland team this role will be responsible for profitably retaining, developing and growing a portfolio of the largest and most complex CPS existing customer accounts
This role is responsible for achieving/exceeding business targets, expressed in terms of revenue, new product revenue growth and customer satisfaction. You will be responsible for strong Account Development Plans (ADP) for all accounts with the creation of an account/win plan for all re-sign and growth opportunities, strongly influencing the account strategy for the relevant industry verticals and demonstrating required actions and effective engagement of the virtual team.
You will be accountable for integration across organisation sub-functions (encompassing commercial, finance, legal, service, bid and propositions) extensive knowledge of the industry sector and strong commercial awareness covering the trading environment and the customer's specific commercial challenges.
You will be expected to build, motivate and co-ordinate virtual teams around the significant customer accounts, in order to achieve desired results on behalf of customers, and provide proactive support to both manager and colleagues (existing and new joiners) with additional coaching and support.
This role is also responsible for conducting customer meetings and dialogue encompassing both immediate opportunities and potential roadmap for the client's business both medium and long term, accurately recording all sales activity on the central CRM system.
Operate within published commercial and contractual guidelines, making effective use of escalation routes
You will act as an ambassador both in the external market and within internal stakeholders, demonstrating best in class sales behaviour and deliver excellent customer experience results
You'll have the following responsibilities
•Accountable for developing successful, sustainable and profitable long-term relationship with some of the largest and most complex customers in Scotland, to include responsibility for escalation management to appropriate level
•Responsible for drawing on multiple sources of information and insight (customer, competitors, market insight/trends, group insight, trading/economic environment) in order to formulate win strategies with customers
•To develop a strong understanding of the customer's requirements and transformational roadmap ensure robust account development plans exist for each customer accurately portraying the competitive landscape and how BT is positioned within it
•Define, develop and own key customer relationships and customer contact strategy
•Accountable for customer satisfaction improvements increasing Net Promoter score within the account
•Accountable for utilising sales process tools to define, develop and owning key customer relationships and customer contact strategy, enabling other teams to deliver service and products by working closely and being clear and open with communication
•Accountable for sustainable profitable growth across strategic account base maximising profit for BT and acknowledging any risk associated
•Accountable for taking responsibility for own personal development, to ensure fully conversant with the whole portfolio and can sell a value proposition
•Accountable for developing effective, multi-layer relationships with customers, demonstrating knowledge of their business and their decision-making process, right across their business to add value and exceptional engagement, becoming a trusted and valued partner
•Identify opportunities to grow and sell BT's complex solutions
•Translation of account plans into actionable steps for self and virtual team
•Understand and be able to sell the current and future benefits of the EE/BT network and all propositions and value-added services
•Continually learn about the industry and new products and services
•Work on additional projects to support the team, region or overall strategy
You'll have the following skills & experience
Skills required for the job
•Expert in interpersonal and stakeholder manager skills; As client partner for our most significant accounts, engages at the most senior levels (CxO) with customers and draws together senior stakeholders from Enterprise for board-to-board customer conversations
•Expert level ability to influence and convince both external customers (to buy) and internal colleagues (both to support the sales process and address customer concerns in-life)
•Proven ability to develop and maintain an effective network of contacts and build relationships at senior levels of the customer/prospect organisation
•Highly effective written and verbal communication skills
•Strong commercial acumen and business understanding enabling achievement of profitable growth and retention results
•Ability to articulate winning account plans and translate into tangible sales activities, successfully engaging virtual teams
Experience you would be expected to have
•Working accounts at this level will be highly experienced at managing senior customer relationships, closing sales business of significant size
•Significant industry experience in IT/Telecommunications, managed and professional services businesses
•Proven experience and success in direct sales, generating growth and minimising churn in IT/Telecommunications or a business to business corporate marketplace
•Strong working knowledge of the market in Scotland and an understanding of how to effectively position BT as a partner to our customers in the region
•Significant experience in working with Public Sector customers, including a knowledge of customer Procurement routes such as Regional and National Government Frameworks
•Experience in selling into the NHS in Scotland, with a working knowledge of some of the key drivers in the Procurement of the services that BT can provide to the Health sector
•Experience in selling to large Private Sector organisations using a business outcome based approach
Benefits
On target commission
Free BT Broadband & BT Sport
Discounted TV & Mobile Packages
Share options and 10% pension contribution
Professional development and paid for industry certifications/qualifications
3 paid for volunteering days a year
Optional benefits/rewards such as dental insurance, healthcare, gym memberships etc.
Well-being support for you and your family
About BT
BT has a key role in British society, fostering change and leading technology innovation. From delivering the Olympics, to supporting the emergency services, to investing more into research than any other UK technology company, we take pride in everything we do - and in the people who work here.
We're now a global company operating at the forefront of the information age, employing 90,000 people in 180 countries. And we're on a mission. Guided by our core values of Personal, Simple and Brilliant our goal is to help customers, communities and businesses overcome barriers and release their potential.
So, if you're interested in the power of potential, why not join us today and release yours? You can read more here about what it's like to work at BT
How to Apply
It's easy to apply online; you just need a copy of your up-to-date CV and to follow the step-by step process. Don't worry if you need to make changes - you'll have the opportunity to review and edit your work on the final page. We look forward to receiving your application!
£55,000 to £65,000 per annum
,
London
From £65,000 per annum
,
London