Account manager
BT
Posted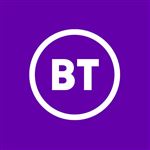 Full Time
Contact:

Human Resources
Reference:

152479
Our mission is to break down the barriers of today to release the potential of tomorrow. Join us today and release yours.
There are two things that we want to share with anyone considering joining us.
Firstly, we've got big ambitions for our colleagues and the future of the organisation. These include our vision that inclusion and accessibility drive every conversation we have and every decision we make. We want our workforce to fully represent the communities and customers we serve, because a diverse business is a better business. We value every colleague, their diversity and the contribution that they make. When we say you're welcome at BT, we really mean it.
Secondly, the one thing the pandemic has taught us is that a lot of current and future colleagues, where and when possible, want to embrace hybrid working. Therefore, we are introducing smart working at BT. Smart working means having the flexibility to choose, as a team, how and where you work depending on your team's deliverables and needs; when you are at your shared core location to connect with others and when not. It may not be for every role, and, as part of the recruitment process, you'll have the chance to discuss smart working and how it might work for the job you are applying for.
About this role
We are looking for an ambitious, determined and resilient sales lead to join our team and help grow our business in an established account, market sector or geography – the role is based in London
He/she negotiates at a high level, but within well-defined limits of delegation.
This role will be responsible for managing Indirect Channels Globally for specific Telecom customers – The candidate will be responsible for selling the BT portfolio (Direct & Indirect) and growing wallet share with these channels.
The ideal candidate has a "Hunting" personality and attitude to open doors, engage at top level, able to engage tactically and strategically with partners and customers. Able to sell directly and indirectly by promoting BT services while showing its business value. Candidate also need to know well BT's portfolio and has the curiosity to understand what is happening in the market.
You'll have the following responsibilities
Key Responsibilities:
· Hunt for new deals, new logos and new customers. This is a greenfield role
· Own Channel, Grow pipeline with the channel and drive net new revenue by closing deals
· To define a Go To Market engagement with the Reseller and agree sales target
· Support Channels to sell by meeting customers, promoting products, enabling your partner, and manage their sales team on a very regular basis
· Understand customer requirements and ensure Channels are qualifying properly their prospects
· Manage the entire sales cycle from opportunity to close by remaining on top of the process
· To define, develop and own key customer relationships and customer contact strategy.
· May operate on a multi-country basis
· Monthly targets
Business Impact:
· Generate Net Incremental revenue and measured/targeted around revenue, GM and EBITDA
· Enable BT's expansion in new geographies through the Channel .
· Executes processes to meet customer needs.
· Drive internal teams
Authority/Decision Making:
· Follows the customer contract strategy and well-defined procedures
· Work with Commercial teams including Solution Specialists, Order and Service Management team to enable create, deliver and manage the right solution for your channel..
You'll have the following skills & experience
Skills/Experience:
Sales attitude, determined, motivated and resilient. Independent and eager to learn
Driven by sales targets and capacity to close deals, generate value and revenue
Sales experience is preferred with history of successful opportunities initiated, processed and closed
Ability to define GTM strategies, market penetration and understand market SWOT
Partner and or vendor experience (sales channels or technology partners
Understanding of Telecom and security market is a must
Ability to manage team, partners and motivate them
Ability to influence internal stakeholders
Good communication and presentation skills.
French language is desirable but not mandatory
Benefits
Free BT Broadband
Discounted TV & mobile packages and BT products
On target Bonus
Share options and 10% pension contribution
Professional development and paid for industry certifications/qualifications
Flexible benefits/rewards including dental insurance, healthcare, gym memberships etc.
Well-being support for you and your family
3 days paid volunteering a year
Flexible and smart working (subject to business needs)
About BT
BT has a key role in British society, fostering change and leading technology innovation. From delivering the Olympics, to supporting the emergency services, to investing more into research than any other UK technology company, we take pride in everything we do - and in the people who work here.
We're now a global company operating at the forefront of the information age, employing 90,000 people in 180 countries. And we're on a mission. Guided by our core values of Personal, Simple and Brilliant our goal is to help customers, communities and businesses overcome barriers and release their potential.
So, if you're interested in the power of potential, why not join us today and release yours? You can read more here about what it's like to work at BT
How to Apply
It's easy to apply online; you just need a copy of your up-to-date CV and to follow the step-by step process. Don't worry if you need to make changes - you'll have the opportunity to review and edit your work on the final page. We look forward to receiving your application!
We can't find any similar jobs at the moment.