Radio Planning Specialist
BT
Posted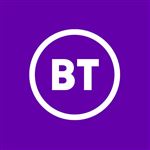 Full Time
Contact:

Human Resources
Reference:

163111
Our mission is to break down the barriers of today to release the potential of tomorrow. Join us today and release yours.
There are two things that we want to share with anyone considering joining us.
Firstly, we've got big ambitions for our colleagues and the future of the organisation. These include our vision that inclusion and accessibility drive every conversation we have and every decision we make. We want our workforce to fully represent the communities and customers we serve, because a diverse business is a better business. We value every colleague, their diversity and the contribution that they make. When we say you're welcome at BT, we really mean it.
Secondly, the one thing the pandemic has taught us is that a lot of current and future colleagues, where and when possible, want to embrace hybrid working. Therefore, we are introducing smart working at BT. Smart working means having the flexibility to choose, as a team, how and where you work depending on your team's deliverables and needs; when you are at your shared core location to connect with others and when not. It may not be for every role, and, as part of the recruitment process, you'll have the chance to discuss smart working and how it might work for the job you are applying for.
About this role
We are responsible for ensuring that our customers have mobile network coverage, capacity and services where they need it, without incurring unnecessary costs. We achieve this by monitoring and understanding our mobile radio access network, programmes of work, strategic requirements, designs, and operational requirements then planning network rollout and modification for optimal cost/benefit/customer experience.
You'll have the following responsibilities
• Act as a technical expert, working with other teams across the business and with other companies, and providing technical support and guidance to other team members.
• Develop and continually improve processes and methodologies used within the team.
• Clearly present the results of analysis to support senior management in strategic decision making.
• Ensure that work undertaken within the team delivers BT's strategic and operational goals.
• Providing coverage impact assessment analysis using Asset and ATOLL planning tools.
• Supporting Internal customer queries in regards of coverage assessment for both stratigc programs, business opportunities or specific single queries.
• Data quality management.
• Supporting the delivery of different BT programs such as Single Rural Network and ESN.
• Reporting on the coverage improvements within BT Network for all technologies (2G, 4G, 5G).
• Providing HO with BT planning Data on a regular bases
You'll have the following skills & experience
• Understanding of the complex interaction between coverage and capacity in the mobile radio access network.
• Significant knowledge and understanding of coverage management techniques and best practice.
• Experience of analysis and clearly presenting findings in writing and in person.
• Developing new processes and methodologies and implementing them within the area of responsibility.
• Understanding of issues and blokers of performing the job and providing improvement plans/solutions.
• Automation mindset to reduce time to deliver.
• More than 5 years experience in the radio planning space.
• Experience in planning Macrocells.
• Strong experience of using tools for radio planning analysis such as ATOLL/ASSETT with particular focus on Automatic Cell Planning module.
• Experience in using visualisation tools sush as QGIS or ARCGIS for more complex data elaboration.
• Good experience of mobile Radio antenna configurations.
• Experience with basic programming language such as Python, V basic and Oracle DB/Access DB.
• Experience in generating data build activities such as BCCH, SC, PCI/RSI, Nbr Plan etc.
• Analyse Radio performance issues such as Drops, Interference, Blocks.
• Drive test analysis using Tools such as Xcal/xCap, Nemo etc.
Benefits
• Competitive salary
• 25 days annual leave (plus bank holidays) Team members 22 day annual leave
• 10% on target bonus
• Option to join the Healthcare Cash Plan
• Pension scheme
• Shares Plan
• Flexible benefits: cycle to work, childcare vouchers, healthcare, etc.
• Discounted BT products
About BT
BT has a key role in British society, fostering change and leading technology innovation. From delivering the Olympics, to supporting the emergency services, to investing more into research than any other UK technology company, we take pride in everything we do - and in the people who work here.
We're now a global company operating at the forefront of the information age, employing 90,000 people in 180 countries. And we're on a mission. Guided by our core values of Personal, Simple and Brilliant our goal is to help customers, communities and businesses overcome barriers and release their potential.
So, if you're interested in the power of potential, why not join us today and release yours? You can read more here about what it's like to work at BT
How to Apply
It's easy to apply online; you just need a copy of your up-to-date CV and to follow the step-by step process. Don't worry if you need to make changes - you'll have the opportunity to review and edit your work on the final page. We look forward to receiving your application!
We can't find any similar jobs at the moment.