Galloway Glens Education & Community Engagement Officer
Dumfries & Galloway Council
Posted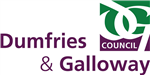 £31,458 to £33,936 per annum
Full Time
Contact:

Human Resources
Reference:

DGA06965
Advert
Galloway Glens Landscape Partnership Scheme
Education & Community Engagement Officer
Castle Douglas
£31,458 – £33,936
Do you have a keen interest in our natural and cultural heritage and how it can be used to make a positive difference to the local people and economy? Are you a confident communicator across all ages and backgrounds?
The Galloway Glens Landscape Partnership Scheme is an ambitious and exciting initiative seeking to 'connect people to their heritage', while boosting the local economy and supporting sustainable communities. The scheme is undertaking a suite of projects with a range of partners up and down the Ken/Dee valley in South West Scotland.
Flowing from the wild uplands to the Solway Firth, including the historic towns of Castle Douglas and Kirkcudbright, the Galloway Glens Scheme area is home to a fascinating mix of natural and man-made environments including one of the first large hydroelectric schemes, sitting alongside the largest Forest Park in the UK. We include parts of the Galloway Dark Sky Park and are within the UNESCO designated Galloway and Southern Ayrshire Biosphere.
This position is part of the Council's Environment Team and will report to the Galloway Glens Team Leader.
This role will support the Scheme's delivery phase until completion on 30 September 2023.
A current driving licence is an essential requirement of this post. However, if you have a disability which precludes you from holding a driving licence consideration will be given if alternative transport can be arranged.
Full job description and person specification is attached. For more information about the aims of the Scheme and the projects proposed, please see the Scheme website: www.gallowayglens.org.
We are seeking applicants enthusiastic to make a difference and to make the most of this opportunity for the area. If you have any questions, please contact McNabb Laurie on 07825 721659.
We can't find any similar jobs at the moment.