Conference & Events Coordinator
Crieff Hydro Family of Hotels
Posted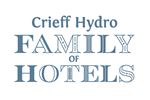 £14,040 per annum
Competitive Salary
Full Time
Contact:

Crieff Hydro Limited
Be part of the family...
We're a family business through and through – family owned, family run, with a warm family welcome for guests and team alike. Our seven hotels are unique (quirky even) and set in three stunning Scottish locations. Some are big, some are small but all offer good food & drink, great beds and a ton of things to do.
Peebles Hydro
We're set right at the heart of the Scottish Borders and offer a great place to relax, unwind and magically shut off from the pressures of modern life. We've been welcoming guests for well over 100 years but today is home to 132 bedrooms, 3 places to eat, 6 function spaces, leisure club, spa and oodles of outdoor space.
About the role
An exciting opportunity to join our active Conference & Events Team based in Peebles Hydro. This role is perfect for someone who enjoys a fast-paced environment, working with a whole mix of clients where one day is never the same as the next. Attention to detail is key for this role alongside a pro-active attitude where you are running a whole variety of events from your intimate special occasions to the high-flying International Conferences; all from start to finish and back again. You need to be approachable, friendly, have acute attention to detail and able to talk to a variety of different clients from all levels in a business (internal and external) as well a natural talent in sales and relationship building.
What we need from you:
Exceptional customer service is at the heart of our business, so your friendly, welcoming personality is a given. Your enthusiasm and passion for hospitality will inspire and energise the teams. You'll have previous events experience in a quality food and drink setting. No two days are the same and you'll thrive on the constant challenge of the role. Everything you do will show your commitment to driving the business forward.
What you'll get from us

The chance to work in a friendly, forward thinking company with investment as a priority.
Great benefits – including pension, and discounts on leisure membership, food and hotel stays
Live in accommodation may be available
attention to detail, customer service, communication, initiative
We can't find any similar jobs at the moment.