Forest Management & Stewardship Craftsperson
Forestry and Land Scotland
Posted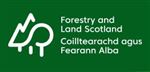 Full Time
Permanent
Contact:

HR Department
About the team
You will be working on the Isle of Arran within a small team with the responsibility of caring for the forests and land on the island for the benefit of its residents and the many tourists who come to enjoy the great environment. Arran is often referred to as 'Scotland in miniature' and it is a wonderful place to live and work if you enjoy the outdoors.
What you will do
The craftsperson on Arran will get hands-on experience of all aspects of forest management. You will be planting and felling trees, repairing paths and putting up signs, building fences and cutting grass. There will be lots of variety and few days will be alike.
Main Duties
• Chainsaw work – basic felling and windblow clearance.
• Clearing saw – scrub cutting and strimming.
• Tractor work – using a flail to cut grass and other vegetation.
• Maintenance of visitor facilities and structures, e.g. signs, benches.
• Assist in carrying out risk assessments and taking a positive approach to Health and Safety.
Apply before 11:55 pm on Monday 18 October 2021.


We can't find any similar jobs at the moment.