Spirit Tasting Specialist
Crieff Hydro Family of Hotels
Posted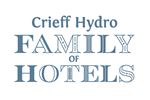 £8.91 per hour
Competitive Salary
Part Time
Contact:

Crieff Hydro Limited
Be part of the family...
We're a family business through and through – family owned, family run, with a warm family welcome for guests and team alike. Our seven hotels are unique (quirky even) and set in three stunning Scottish locations. Some are big, some are small but all offer good food & drink, great beds and a ton of things to do.
Crieff Hydro Hotel
Pretty much in the centre of Scotland, we're set in a 900acre estate in stunning Perthshire. Home from home, we've been welcoming generations of families for 150 years. We have 215 hotel bedrooms, 55 self-catering lodges, six restaurants and over 60 onsite activities– there really is something for everyone!
About the role
We're looking for someone who will be equally, if not more, excited than us about the spirits industry. Our spirits specialist will be happy to tell the interesting story of the spirits we offer here at Crieff Hydro – from the gin produced on site at 1881 Distillery to the Whisky produced at the Glenturret Distillery. You'll be taking our guests through tasting sessions, and giving them the history and tasting notes behind each product. You need to be comfortable in front of an audience.
You'll learn how to explain the distilling process, how to take a tasting class, and learn the ins and outs of whisky & Gin Production.
We'll provide you with on the job training and support you all the way.
Must be 18+
A willingness to learn, both practically and in theory.
You'll have good practical skills and an excellent attention to detail.
A basic understanding of health & safety and food hygiene procedures.
Work well as part of a team where great communication is essential.
You'll be passionate about great service, articulate and engaging
Willingness to work in a flexible work pattern
Team focus – there are no egos here, just hard-working people who love creating memorable experiences for every guest deas and openness – we're up for doing things differently and will try (almost) everything once
Fun and easy to talk to – we're looking for personality, not a corporate clone
Flexibility – there's no problem you can't fixat we need from you:
What you'll get from us
The chance to work in a friendly, forward thinking company with investment as a priority.
Great benefits – including pension, and discounts on leisure membership, food and hotel stays
Live in accommodation may be available
public speaking, communication
We can't find any similar jobs at the moment.