Amazon Flex - Deliver parcels for Amazon
Amazon Flex
Posted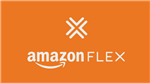 £13 to £15 per hour
Full Time
Casual
Contact:

Amazon Flex
Adjust your work, not your life.
Do it your way. Drive your car, listen to your music, and get paid.
Make £13-15* an hour.
Make quicker progress toward your goals.
Everybody's driven by something. Maybe you're saving up for something big. Or maybe you just want to earn some extra money for day-to-day expenses. Whatever drives you, get closer to your goals with Amazon Flex.
Adjust your work, not your life.
Perhaps you have a job, but want to supplement your income. Or maybe you are already a delivery driver and want something to keep you busy on the quieter days. Whatever your situation, Amazon Flex can offer you the freedom and flexibility to be your own boss and to earn extra money on your own schedule.
Find out more at https://flex.amazon.co.uk
* Earnings estimates are based on delivering a number of packages across an estimated length of time (referred to as a block), completed while driving a standard motorized vehicle. Should Amazon Flex introduce blocks eligible to be delivered using scooters or other alternative modes of transportation, different rates may apply. We aim to ensure that the number of packages you are assigned to deliver within your block is realistic, taking into account congestion and the primary requirement to drive safely. However, the actual time taken per delivery may vary (because it could, occasionally, take less or more time than expected) so the earnings per hour may vary.
£13 to £15 per hour
,
Edinburgh
£13 to £15 per hour
,
Motherwell
£13 to £15 per hour
,
Glasgow