Customer Service Advisor
BT
Posted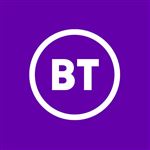 From £21,000 per annum
Full Time
Contact:

Human Resources
Reference:

166739
Our mission is to break down the barriers of today to release the potential of tomorrow. Join us today and release yours.
There are two things that we want to share with anyone considering joining us.
Firstly, we've got big ambitions for our colleagues and the future of the organisation. These include our vision that inclusion and accessibility drive every conversation we have and every decision we make. We want our workforce to fully represent the communities and customers we serve, because a diverse business is a better business. We value every colleague, their diversity and the contribution that they make. When we say you're welcome at BT, we really mean it.
Secondly, the one thing the pandemic has taught us is that a lot of current and future colleagues, where and when possible, want to embrace hybrid working. Therefore, we are introducing smart working at BT. Smart working means having the flexibility to choose, as a team, how and where you work depending on your team's deliverables and needs; when you are at your shared core location to connect with others and when not. It may not be for every role, and, as part of the recruitment process, you'll have the chance to discuss smart working and how it might work for the job you are applying for.
About this role
As a Customer Service Advisor within BT Enterprise, you play a key role in supporting our customers when they need our help & support through the Early Life and In Life stages of their customer journey.
You are the face of Enterprise Service, available to support our customers at the first point of contact – be that when they contact us or when we need to contact them. This could be through various channels including voice, chat, digital channels etc.
Your primary focus is ownership and resolution, doing everything you can to get their issue resolved as quickly as possible and where you can't fully resolve it there and then, you make sure that we're keeping the customer informed on what's happening next and when and that we're keeping our promises. And if our customers want to complain at any point, you'll take ownership to get that resolved.
You will be multiskilled to support our customers who need help with an order, a billing issue, a fault – and that could be about one or more of our products – our traditional PSTN and broadband products, mobile or future products. Everything you do will be centred around being obsessed with delivering best in class customer service, using your listening skills to understand why the customer needs our help and you'll use your skills, knowledge, systems and processes to resolve their issue, making sure at all times that they also know how to be able to help themselves through our various digital channels.
Continuous Improvement will be at the heart of everything you do and you will participate in making things better for our customers and the business by looking for opportunities to improve how we do things. You'll fully participating in CI Huddles, team meetings, 121 and coaching sessions and the role holder will embrace CI methodology by raising Bugs to drive improvement, take part in CI A3s etc.
You'll have the following responsibilities
· You will provide outstanding customer service to every customer you interact with – you will do this by taking ownership, focusing on resolution and communicating with the customer about what has happened / what needs to happen next
· You will have a passion and obsession for helping our customers, you'll make sure we deliver the best service possible. You'll be highly motivated to deliver great service and also identify opportunities where we need to do better or improve our processes
· You will be curious about matching our products to our customers' business needs and then engage in conversation with them to support them with that and at the same time drive additional revenue for the business
· You will follow the relevant processes and procedures in relation to the customer journeys, which starts with verification and validation to protect all customers and will include operational processes and/or diagnostics to log, complete, progress and resolve customer issues.
· You will be focused on ownership of customer issues
· You will record the information required as part of our processes, using the relevant systems
· You will be passionate about "Great Conversations" with our customers, so much so our customers will tell us that you've owned and resolved their issue, exceeding their expectations.
· You will be responsible for your own performance and will be focused on improvement
· You will have great attendance, so that you can be there to support our customers
· You will take personal ownership of your own development and be proactive on that, by working with your Line Manager and Coach to tailor your development plan.
· You'll be an active participant in coaching sessions, 121s, team meetings and Huddles and have a strong, positive and proactive voice within the team
You'll have the following skills & experience
· You will have excellent customer service skills
· You will be an excellent communicator and this will include having excellent call handling and / or Livechat skills and have the skills to also be able to deal with offline customer activity
· You will be completely customer focused, to ensure ownership and resolution of their issues
· You will be tenacious and resilient
· You will be a problem solver – robustly and consistently resolving customer issues and you'll do that through experience, common sense and best use of process and guided by policy and procedure
· You'll demonstrate curiosity about a customers' business and the progress of any issue they have raised – all focused-on intervention and resolution
· Be able to make complex things easy for customers to understand
· You will be very organised, able to prioritise
· You'll have excellent negotiation and problem-solving skills
· You will be flexible
· You will be adaptable to change
· You'll understand how to match and promote products and services to the customers' needs by being proactive and forward thinking
· Be open minded and provide creative solutions for customers
· Make critical interventions in the customer journey when needed to support the best outcome for the customer
· You'll have the skills and experience to have honest conversations with customers
· You will be focused on always improving your performance and the experience of the customers you interact
· You will have a track record of results
· You will be a team player, respecting those around you
· You will work with minimal supervision
· You'll be a self-starter and focused on your own improvement and development
· You'll be proactive in terms of coaching requirements and taking on board coaching delivered to you and you
· You will live the BT Values
· You will have the specific skillset for the customer journeys you support, which will be process and system
· You will look for ways to improve the service we deliver, you'll voice your opinion and be open to change, collaborating with your team to test, learn, fix
· Ability to work effectively with challenging priorities, workloads and deadlines, sometimes stepping up to respond to time of high customer demand
Benefits
Competative salary of £21,000

Generous discounts on broadband

BT TV, BT Sport and Now TV for £5

Incentives and recognition for your performance

Full training, ongoing coaching and support

Employee rewards hub saving you £££ on products/services you normally buy

Great pension (up to 9% employer contributions) and share schemes

Opportunities to progress your career across the business

Paid days off to volunteer with charities or causes important to you

Job satisfaction: knowing you're helping the country stay connected
About BT
BT has a key role in British society, fostering change and leading technology innovation. From delivering the Olympics, to supporting the emergency services, to investing more into research than any other UK technology company, we take pride in everything we do - and in the people who work here.
We're now a global company operating at the forefront of the information age, employing 90,000 people in 180 countries. And we're on a mission. Guided by our core values of Personal, Simple and Brilliant our goal is to help customers, communities and businesses overcome barriers and release their potential.
So, if you're interested in the power of potential, why not join us today and release yours? You can read more here about what it's like to work at BT
How to Apply
It's easy to apply online; you just need a copy of your up-to-date CV and to follow the step-by step process. Don't worry if you need to make changes - you'll have the opportunity to review and edit your work on the final page. We look forward to receiving your application!
We can't find any similar jobs at the moment.