Self Catering Assistant
Crieff Hydro Family of Hotels
Posted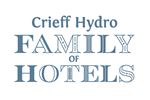 £9.21 per day
Competitive Salary
Full Time
Contact:

Crieff Hydro Limited
Be part of the family...
We're a family business through and through – family owned, family run, with a warm family welcome for guests and team alike. Our seven hotels are unique (quirky even) and set in three stunning Scottish locations. Some are big, some are small but all offer good food & drink, great beds and a ton of things to do.
Crieff Hydro Hotel
Pretty much in the centre of Scotland, we're set in a 900acre estate in stunning Perthshire. Home from home, we've been welcoming generations of families for 150 years. We have 215 hotel bedrooms, 55 self-catering lodges, six restaurants and over 60 onsite activities– there really is something for everyone!
About the role
At the Crieff Hydro family of hotels, we're not fans of the phrase 'something for everyone': But in the case of accommodation types across our property portfolio, it just happens to be true. We've got standard rooms, executive rooms and luxury self-catering accommodation (to name just a few). And no matter the type of accommodation, every room has one thing in common. It has to be spotlessly clean and presented beautifully - every last nook and cranny!! That's where you come in. You'll dust, hoover, clean bathrooms and kitchens, make beds, and pay attention to all the little touches that make a difference and WOW our guests during their stay.
What we need from you:
It would be great if you have experience of cleaning hotels, but what really matters to us is that you have a great attitude and fantastic attention to detail. You'll take a pride in what you do and you'll have high personal standards of cleanliness and boundless energy levels. Exceptional customer service is at the heart of our business, so you'll also be friendly and able to give a warm welcome to any guests you meet.
What you'll get from us
The chance to work in a friendly, forward thinking company with investment as a priority.
Great benefits – including pension, and discounts on leisure membership, food and hotel stays
housekeeping, cleaning, five star
We can't find any similar jobs at the moment.