Painter and Decorator
Crieff Hydro Family of Hotels
Posted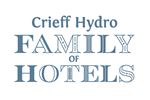 £20,000 to £22,000 per annum
Competitive Salary
Full Time
Contact:

Crieff Hydro Limited
Be part of the family...
We're a family business through and through – family owned, family run, with a warm family welcome for guests and team alike. Our seven hotels are unique and set in three stunning Scottish locations. Some are big, some are small but all offer good food & drink, great beds and a ton of things to do.
Crieff Hydro Hotel
Pretty much in the centre of Scotland, we're set in a 900acre estate in stunning Perthshire. Home from home, we've been welcoming generations of families for 150 years. We have 215 hotel bedrooms, 55 self-catering lodges, six restaurants and over 60 onsite activities– there really is something for everyone! You'll Support the daily running of the department, with all painting & decorating duties including internal and external painting, varnishing, staining, enamelling and wallpapering throughout the hotel and estate. Carry out any other Maintenance Requests you're trained for, prioritising them accordingly.
What we need from you:
Self-Starter – we want our people to feel motivated and supported
Leadership – a natural leader- we want happy, confident, motivated teams
Team focus – there are no egos here, just hard-working people who love creating memorable experiences for every guest
Ideas and openness – we're up for doing things differently and will try (almost) everything once
Fun and easy to talk to – we're looking for personality, not a corporate clone
Flexibility – there's no problem you can't fix
What you'll get from us
The chance to work in a friendly, forward thinking company with investment as a priority.
Great benefits – including pension, and discounts on leisure membership, food and hotel stays
Live in accommodation may be available
Uniform – We'll provide full uniform
painter and decorator
We can't find any similar jobs at the moment.