Entertainment Assistant
Crieff Hydro Family of Hotels
Posted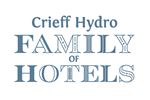 £8.91 per day
Full Time
Contact:

Crieff Hydro Limited
Be part of the family...
We're a family business through and through – family owned, family run, with a warm family welcome for guests and team alike. Our seven hotels are unique and set in three stunning Scottish locations. Some are big, some are small but all offer good food & drink, great beds and a ton of things to do.
Crieff Hydro Hotel
Pretty much in the centre of Scotland, we're set in a 900acre estate in stunning Perthshire. Home from home, we've been welcoming generations of families for 150 years. We have 215 hotel bedrooms, 55 self-catering lodges, six restaurants and over 60 onsite activities– there really is something for everyone!
About the role
You'll set up and host an exciting range of activities to entertain audiences of all ages as well as making sure everything runs like clockwork. You'll be dealing directly with our guests and be one of the faces of our Entertainment Team: That means at all times you'll be an ambassador for Crieff Hydro.
As you'll be hosting and running quizzes, party nights, ceilidhs, sports and much more, it goes without saying you'll be able to confidently communicate with groups of people, and your infectious enthusiasm and boundless energy will motivate and encourage others to join in the fun. You could work long hours, particularly at the weekends, with late finishes.... because people come here to have fun…. and the parties not over until it's over!!
What we need from you
If you come from an entertainment/events background and have experience of working with bands and performers this would be ideal: if not and this is the opportunity you've been waiting for to break into a career in entertainment, then we still want to hear from.
You'll be able to come up with fun ideas to keep people entertained and have the personality turn ideas into a memorable event. Basic IT and admin skills will also be part of your skill set. Most of all you'll enjoy working with people and be able to host a great party, time after time.
What you'll get from us

The chance to work in a friendly, forward thinking company with investment as a priority.
Great benefits – including pension, and discounts on leisure membership, food and hotel stays
Live in accommodation may be available
hosting, singing, entertainment, grotto
We can't find any similar jobs at the moment.