Reception Manager
Crieff Hydro Family of Hotels
Posted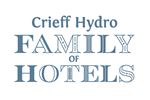 £19,000 to £21,000 per annum
Competitive Salary
Full Time
Contact:

Crieff Hydro Limited
Be part of the family...
We're a family business through and through – family owned, family run, with a warm family welcome for guests and team alike. Our seven hotels are unique and set in three stunning Scottish locations. Some are big, some are small but all offer good food & drink, great beds and a ton of things to do.
Crieff Hydro Hotel
Pretty much in the centre of Scotland, we're set in a 900acre estate in stunning Perthshire. Home from home, we've been welcoming generations of families for 150 years. We have 215 hotel bedrooms, 55 self-catering lodges, six restaurants and over 60 onsite activities– there really is something for everyone!
About the role
A friendly welcome at reception sets the tone for a great stay at Crieff Hydro, so you'll have personality and positivity by the bucket load. You'll deal with guest check ins, resolve any issues, and be able to upsell the resort and all the exciting activities Crieff Hydro has to offer.
What we need from you:
As Reception Manager you will be responsible for the running of the Reception department and helping to oversee the department. You will have good man management skills, strong customer service skills, an excellent problem solver, will help to lead from the front and gain respect from other staff members. You will also be well presented, have a bright personality and be passionate about service and working hard to ensure the department runs as well as possible. You will also communicate well with all departments and perform as an effective member of the Reception team.
You'll certainly have previous customer service experience, and be able to show us you can deal with any issues in a caring and helpful manner. You'll have good systems savvy, and if you've worked with Maestro or similar booking system, even better.
You'll work varied shift patterns, with the earliest start time of 7am.
What you'll get from us

The chance to work in a friendly, forward thinking company with investment as a priority.
Great benefits – including pension, and discounts on leisure membership, food and hotel stays
Live in accommodation may be available
communication, pms, management
We can't find any similar jobs at the moment.